Cellink Lumen X DLP Printer
Institution
UC Santa Barbara
Research Areas
Additive Manufacturing
Synthesis and Formulation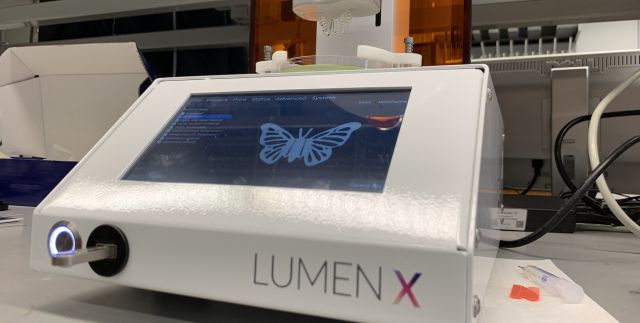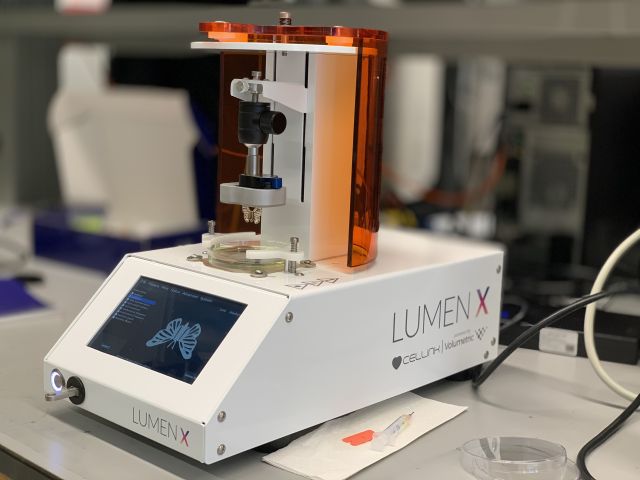 Overview
The Lumen X leverages digital light processing (DLP) printing to offer users high resolution, high throughput and high fidelity, enhancing applications in microfluidics, cell-laden hydrogels, macroporous structures and more. The BioPACIFIC MIP Lumen X bioprints with with near UV light (385 nm) and can achieve complex branching and tapering of vessels.
Advanced Functionality and Versatility
Compatible with a wide range of biocompatible photoinks.
Compared to extruded scaffolds, Lumen X scaffolds are significantly more isotropic, allowing users to control mechanical properties with geometry in all dimensions.
DLP technology coupled with Volumetric PhotoInks allow the Lumen X to build watertight channels in hydrogels with greater consistency and precision than extrusion.
Printing Specifications
Projected Image: 1280 x 800 pixels
Pixel resolution (XY): 50 µm
Z-precision (motor-driven): 5µm
Max build volume 65 x 35 x 50 mm
Projected light wavelength: 385 nm
Heated platform: up to 60°C
Disposable, quick-change sterile vats
Advantages
Print living cells
Disposable, quick change sterile vats
Heated platform