Fellows Cohort Selected
BioPACIFIC MIP Fellowship Awards made to support in-house research at UCSB and UCLA.
Type
Training and Education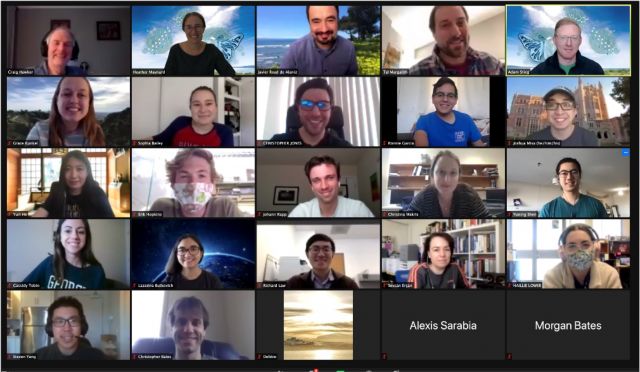 PI and Institution
Javier Read de Alaniz (UCSB) and Heather Maynard (UCLA)
Achievement
4 funded Fellows and 19 unfunded Fellows (10 UCSB, 13 UCLA) from 8 departments have been selected as part of the first cohort of BioPACIFIC MIP trainees. 2 Associates from UNC Chapel Hill will join for a portion of the activities. The Fellows program participants will help establish the in-house research community; the Associates will strengthen knowledge sharing and serve as a beachhead for our User Program. Fellows will benefit from:
Training in BioPACIFIC MIP research
Industry-led Summer School focused on high-throughput experimentation
Career guidance via talks at quarterly meetings and Individual Develop Plan (IDP) creation and mentorship
Professional skills workshops
Peer-peer networking including at biweekly research meetings
Community and leadership networking and mentorship with industry and academic professionals
Importance of the Achievement
This cohort marks the official start of the BioPACIFIC MIP in-house research and training programs. The students will participate in bi-weekly research meetings starting in Winter 2021. It is expected that the students' PIs will submit in-house/user research proposals that leverage BioPACIFIC MIP resources. The cohort of Fellows and Associates also strengthens the diversity of the BioPACIFIC MIP participant base and is in line with the targets set in the proposal. Of the 25 Fellows and Associates: 11 self-identified as women, 12 men, and 2 did not identify. 5/25 self-identified as Hispanic and 4/25 self-identified as Black, Native American, or Hawaiian/Pac Islander.
Unique Features of BioPACIFIC MIP that Enabled this Achievement
The interdisciplinary nature of BioPACIFIC MIP promoted applications from 8 departments. The MIP also provides a unique opportunity for students to work at the intersection of synthetic biology and synthetic chemistry, leveraging the type of high-throughput and automated experimental methodology that's more commonly found in industrial settings. The Fellows will also be immersed in the MGI approach to discovery, as the research projects represented by the students and postdocs involved with BioPACIFIC MIP span synthesis, characterization, computation, and simulation.