New 3D Printing capabilities at BioPACIFIC MIP
New printers now available!
September 1, 2022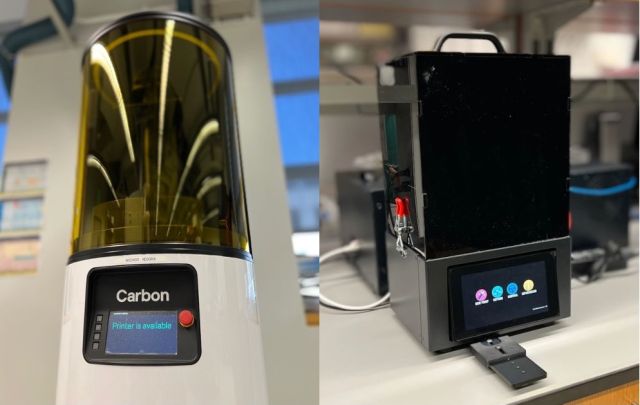 BioPACIFIC MIP has added two new printers to the Additive Manufacturing facility at UC Santa Barbara. Both printers are accessible at no cost through the BioPACIFIC MIP User Program and proposal process.
BioPACIFIC MIP's state-of-the-art Carbon M2 3D printer uses continuous liquid interface production technology (CLIP) to rapidly create physical objects from 3D models. This technology produces "layerless" components with smooth external surfaces and solid cross-sectional areas, at printing speeds roughly 25 to 100 times faster than traditional 3D printing.
BioPACIFIC MIP also expanded its line of Mono printers with the addition of the 5-wavelength 3Z2 panchromatic DLP. With LEDs emitting from the near UV to the near IR, and the ability to use two sources simultaneously, the Mono3Z2 provides a flexible platform for printing multilateral objects using panchromatic photopolymer resins.