BioPACIFIC MIP Fellows Inspire High School Students to Investigate Hydrogels and Learn about Exciting Future Careers
Promoting Knowledge Sharing and Excitement in STEM
March 21, 2022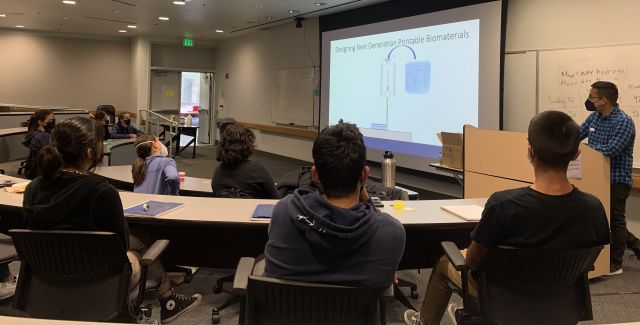 As part of its outreach mission, advanced graduate students and postdoctoral researchers engaged in BioPACIFIC MIP research, taught a short course for the School for Scientific Thought (SST) at the Center for Science and Engineering Partnerships (CSEP) at UCSB, sharing their enthusiasm for science, and their expertise in current research, with students from local and UC Partnership high schools.
The SST is a program for high school students in grades 9, 10, 11, and 12 that introduces them to concepts in science that extend beyond the typical high school science classroom. The concept of this course was focused on hydrogels and their applications. BioPACIFIC MIP Fellows Sophia Bailey and Ronnie Garcia, along with BioPACIFIC MIP postdoctoral researcher Dr. Kevin Shen, educated 16 high school students on both synthetic and naturally derived hydrogels, their prevalence in our daily lives (from boba to contact lenses!), and their potential uses in next-generation biomaterials and therapeutics. The course involved hands-on activities, including making hydrogels from biopolymers, studying hydrogel properties such as swelling, stiffness, and decomposition, and lab tours within UCSB's BioPACIFIC Materials Innovation Platform facilities.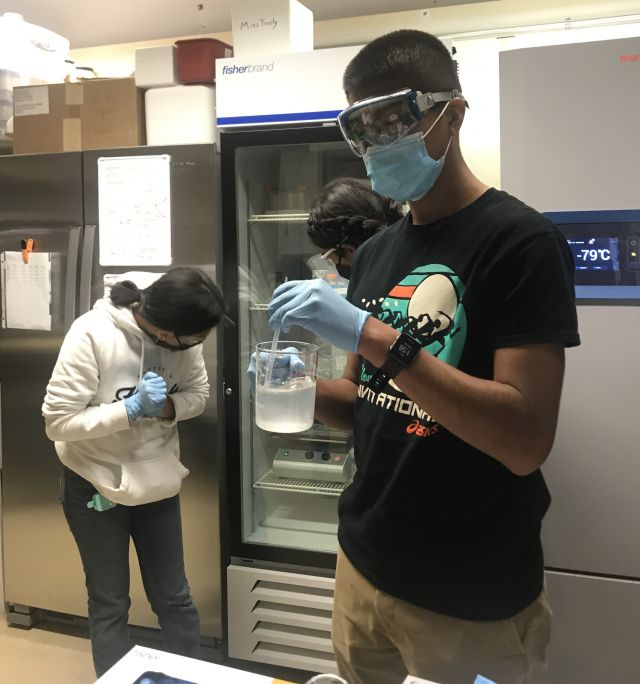 Besides engaging with exciting concepts from current science and engineering research, high school participants of the SST are connected to the university setting and to scientist and engineer role models. To support participants with diverse gender, ethnic, and socioeconomic backgrounds, the course instructors participated in training that introduced teaching techniques emphasizing active learning, student-centered pedagogy, and diversity, equity, and inclusion in the classroom. The SST exposes high school students to materials science, trains graduate students and postdocs to serve as educators and science communicators, and promotes knowledge sharing in biomaterials with the public.
The BioPACIFIC MIP is supported by NSF award #DMR-1933487.