Living Biofoundry Brings New Synthetic Biology and Microbial Engineering Capabilities to BioPACIFIC MIP
High-throughput, automated platform available at the UCLA facility in CNSI
May 31, 2021
By Wayne Lewis, CNSI, UCLA
There's a new shared-use resource for investigators seeking to develop microbes into factories that produce novel materials and compounds. The BioPACIFIC MIP at UCLA now offers access to a ThermoFisher Scientific Laboratory Automation System, dubbed "the Living Biofoundry."
The BioPACIFIC Materials Innovation Platform (BioPACIFIC MIP) is dedicated to the design and sustainable production of high-performance, bioderived alternatives to polymers derived from petroleum. In support of this vision, the BioPACIFIC MIP Living Biofoundry operates as an open-access, national user facility specifically designed to support automated synthetic biology and microbial engineering toward the production of monomers and polymers with precise repeat units, domains and chirality directly from microorganisms.
"The NSF-funded Living Biofoundry can automate molecular biology, biochemical and synthetic biology experiments in a highly programmable workflow," said Yi Tang, a UCLA professor of chemical and biomolecular engineering, a co-principal investigator of the BioPACIFIC MIP and a member of the California NanoSystems Institute. "These capabilities can lead to the high-throughput discovery and engineering of new enzymes, renewable chemicals and pharmaceuticals, and can serve the biomedical and bioengineering research communities."
The state-of-the-art Living Biofoundry is powered by an integration of ThermoFisher Scientific's SpinnakerTM microplate robot and MomentumTM automation programming interface. The robot, with built-in vision capability, is known for its ease of use, while the intuitive software allows users to run multiple methods simultaneously and make decisions on the fly in real time. The system comprises other advanced scientific devices, including the following:
The ThermoFisher Scientific Cytomat 2 C450 incubator has a temperature range from 4 to 50 degrees Celsius, with unmatched temperature uniformity and stability, a storage carousel capacity of up to 320 microplates and the ability to set tailored, container-specific speeds.
The Tecan Fluent 780 automation workstation is easily reconfigurable and includes a unique flexible channel arm with both liquid and air displacement technologies.
The Tecan Spark 20M multimode microplate reader includes a high-speed monochromator that can perform a full-absorbance spectrum scan in under 5 seconds and a multicolor luminescence module that makes possible virtually any luminescence measurement.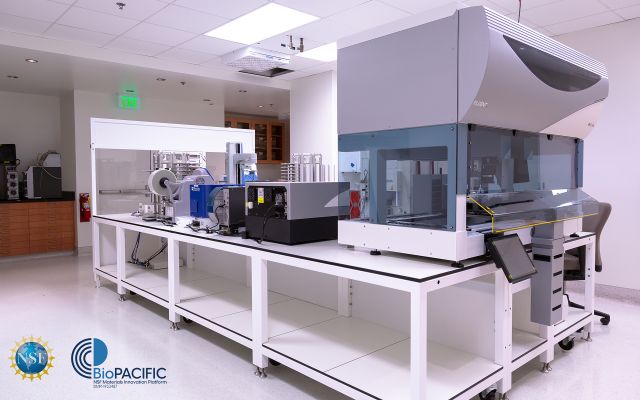 Users of the Living Biofoundry can also mine a data library of biosynthetic pathways to accelerate the discovery and scaled-up production of bioderived building blocks and biopolymers. With the extensive suite of microscopy and spectroscopy equipment nearby at the CNSI Technology Centers, users also have the chance to determine the structure of small molecule and semicrystalline polymers quickly and reliably.
"The BioPACIFIC MIP Living Biofoundry provides exciting new capabilities to the research community," said Adam Stieg, executive director of BioPACIFIC MIP and associate director of CNSI at UCLA. "This strategic investment in our shared infrastructure, enabled by funding from the NSF, offers a new platform for the development of sustainable biomaterials, provides the next-generation workforce with hands-on training in industry-relevant technologies and empowers the development of new programs that leverage automated synthetic biology at the BioPACIFIC MIP and CNSI."
In addition to the BioPACIFIC MIP's work creating new biopolymers, the team will further develop the nascent technology of automated synthetic biology and all associated processes for workflow development, sample preparation, data acquisition and analysis — an area of particular strength at UCLA. The novel approaches pioneered there will benefit both Living Biofoundry users and the national research community.
This platform is made possible by the unique and collective expertise of the BioPACIFIC MIP faculty and staff. BioPACIFIC MIP facilities are open to all U.S. scientists via a peer-reviewed user proposal process. Inquiries about the Living Biofoundry, including requests for access or project consultation, can be directed to biopacificmip@cnsi.ucla.edu.
Images: Marc Roseboro