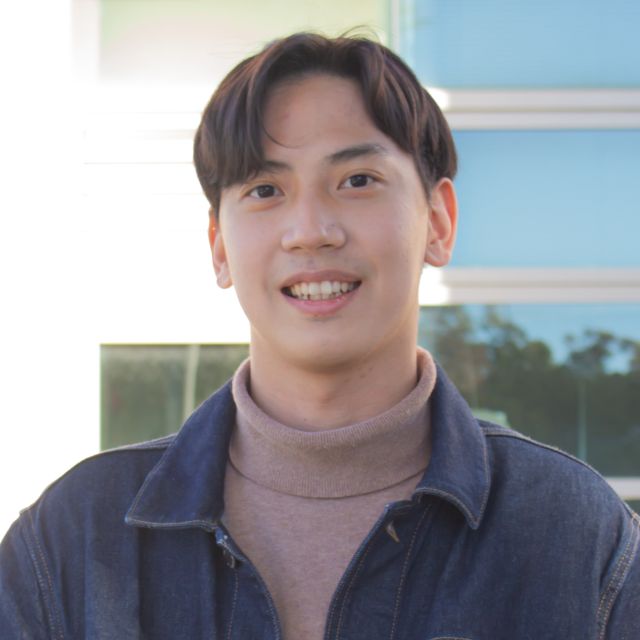 Tse-Chiang Huang
Graduate Student
BioPACIFIC MIP Fellow 2023
 

About Tse-Chiang
Advisor: Matthew Helgeson
Department: Chemical Engineering
Campus: UCSB
BioPACIFIC MIP Research: SET 2 - Sequence-defined Materials; SET 3 - Functional Biomimics
 

What is your research focus?

Protein-based materials have emerged as sustainable replacements in conventional polymeric formulations due to their sequence modularity, stimuli responsiveness, and diverse chemical functionality, and recent efforts have sought to understand intrinsically disordered proteins (IDPs) as a new class of such biomaterials. The reflectin protein is an exceptional IDP example for its unique ability to modulate the color-changing camouflage of cephalopods based on its aggregation into defined clusters of pH-tunable size, making it an ideal system to learn from and re-engineer a broader class of stimuli-responsive biomolecular materials.

We seek fundamental understandings of relationships between sequence, colloidal interactions and assembly, and phase behavior of IDPs, employing reflectin as a model system for mechanistic investigation and engineering of IDP assembly. Our proposed workflow involves integration of high-throughput multi-scale simulations and experiments available within BioPACIFIC to establish an efficient, molecularly-informed, and predictive platform for investigating sequence-defined materials. Previously as a BioPACIFIC MIP Fellow, in tandem with experimental collaborators, I successfully combined small-angle X-ray scattering (SAXS) with simulations to predict the self-assembly and phase behavior of reflectin using coarse-grained colloidal interaction potentials, which remarkably reproduced experimental observations. Moving forward, I propose new studies aimed at understanding the effects of sequence controlling reflectin aggregation, using BioPACIFIC MIP's multiscale workflow to produce coarse-grained models. I aim to computationally design reflectin with targeted mutagenesis models that tailor assembly for targeted bio-synthetic hybrid applications. For BioPACIFIC MIP, this multiscale approach will provide an important case study for engineering IDPs for a range of other protein materials and formulations.
 

What excites you about NSF BioPACIFIC MIP?

The BioPACIFIC MIP is an excellent fit for my research. My work seeks to forge new tools and engineering understanding for bio-inspired and sequence-defined materials, critically leveraging combined experimental and computational approaches developed within the MIP. The accessibility of high-throughput SAXS and microscopy instrumentation and BioPACIFIC MIP-centric computational workflows involving atomistic, coarse-grained, and field theoretic methods will be integral to enabling my work that bridges the microscopic and macroscopic scales to enable new discoveries.

In the previous year, I have worked closely with our experimental collaborators to generate a detailed portfolio of simulation results on reflectin assembly with excellent agreement with experiments, forming the basis of an APS talk and a first-author manuscript in preparation. The interdisciplinary training of the BioPACIFIC MIP provides not only techniques and training for my work, but also connections with other groups in academia and industry. In particular, the program provides the opportunity to immerse me in regular SETs meetings, offering significant opportunities to broaden my research ideas and apply my expertise to other fields. The training involving interdisciplinary collaboration and the state-of-the-art high-throughput research tools is ideal for my career preparation for either a faculty position or as research scientist in the industries.