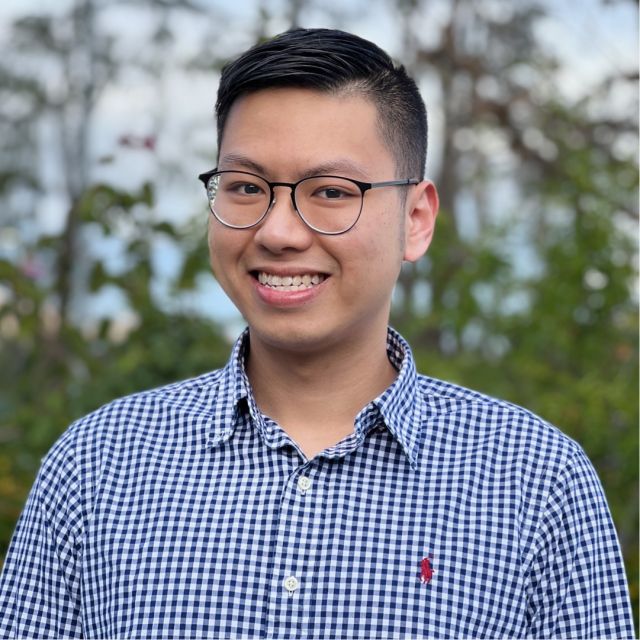 Frank Truong
Graduate Student
BioPACIFIC MIP Fellow 2023
 

About Frank
Advisor: Omar Saleh
Department: Materials
Campus: UCSB
BioPACIFIC MIP Research: SET 2 - Sequence-defined Materials
 

What is your research focus?

Natural biopolymers encode their structures and functionalities into their sequences. Such ability inspires efforts in discovering and synthesizing new materials that can be engineered with precise sequencing to achieve the complexity of biopolymers. Peptoids emerge as a new class of bioinspired materials due to their precise sequence-defined synthesis. The rational design of peptoids requires basic knowledge of the relationship between a sequence and its resulting structure. My research offers a unique perspective on this sequence-structure relationship through single-molecule stretching experiments. Using the high-resolution magnetic tweezers, I apply forces on individual polymer molecules and measure their elastic responses. These mechanical behaviors can be analyzed by polymer physics parameters that can explain the molecule's conformations and intramolecular interactions. By designing and testing simple peptoid sequences, I isolate and explore the effects of net charge and charge patterning on the polymer conformations. Surprisingly, the peptoid flexibility is independent of any electrostatic effects. However, the peptoid theta solvent point is dependent on the sequence charge spacing. The results from my study challenge previous assumptions on sequence-defined polyelectrolytes and provide new insights on the polymer sequence-structure relationship.

My research goals align with the mission of BioPACIFIC MIP especially with SET 2. Designing sequence-defined materials must be informed by an understanding of how sequence influences its structure. My research contributes experimental evidence of sequence-structure relationship, and combined with computational tools that can predict structure from sequence, can be a powerful framework for new material discovery and engineering.
 

What excites you about NSF BioPACIFIC MIP?

In the past year, the BioPACIFIC MIP has provided direct support to my research project. In my research, I encountered several peptoid chemistry issues and received much-needed guidance from the experts within the BioPACIFIC MIP. Morgan and Zach helped me with HPLC peptoid purification while Javier gave me advice on improving peptoid click reaction efficiency. This tangible support from the BioPACIFIC MIP has allowed me to progress with my research project more quickly, moving closer to a publication. Besides technical support, I have also gained so many insights on the breadth of bio-inspired materials research through various talks from the other SETs.

Besides research benefits, the Fellows program has provided many opportunities for my personal professional development. I have learned how to utilize an Individual Development Plan to determine my professional strengths and weaknesses. I have also received guidance on how to conduct informational interviews to expand my professional network and learn more about potential employers. These skills are critical to me as I will soon apply for industry positions. In just one year, I have benefited so much from the BioPACIFIC MIP Fellows program, and I hope to be able to return for my research and professional development.