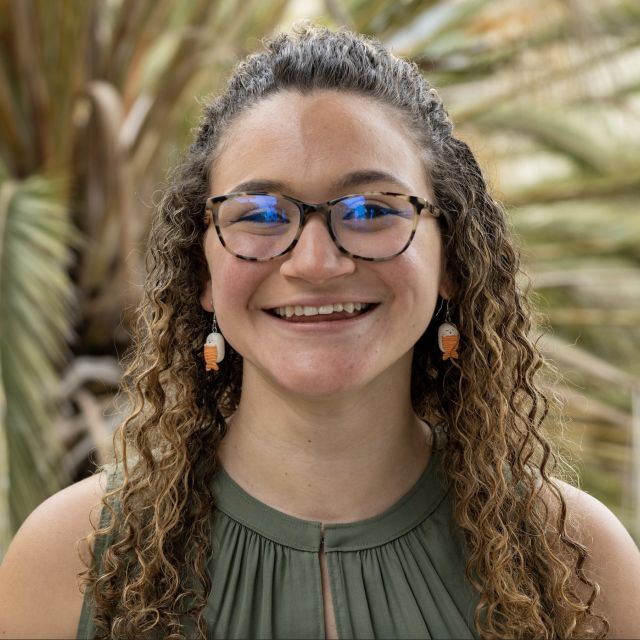 Daniela Rivera Mirabal
Graduate Student
BioPACIFIC MIP Fellow 2023
 

About Daniela
Advisor: Rachel Segalman
Department: Chemical Engineering
Campus: UCSB
BioPACIFIC MIP Research: SET 2 - Sequence-defined Materials
 

What is your research focus?

Polymer synthesis has become increasingly sophisticated and current developments in precise sequence-controlled polymers allow for new design opportunities. However, the enormous number of possible sequences requires robust and efficient modeling to understand and predict how sequence impacts material properties. My research uses sequence-specific polypeptoids as a platform for developing design rules for relating chemical sequence to polymer conformation, overlapping with BioPACIFIC MIP's SET 2 (Sequence-defined Materials). Our earlier atomistic simulation studies of polypeptoid systems examined changes in the local and global structure of short chains in response to the number and location of the hydrophobic and chiral monomers. However, to study broader chain shape effects and self-assembly behaviors, access to longer and multiple peptoid systems requires coarse-grained simulations that can exceed the limitations of atomistic simulations.

We are currently developing a bottom-up coarse-grained peptoid model using the relative entropy approach to create a library of peptoid monomers suitable for studying CG models of a wide range of sequences in both long chain and self-assembly simulations. We will leverage BioPACIFIC MIP's instrumentation such as the Symphony X Synthesizer, Shimadzu HPLC and SAXS to validate our CG models by measuring chain dimensions and use the High-Performance Computing resources to perform the CG simulations. We will also leverage inverse design methods to suggest sequences with unique folding and self-assembly properties as means to investigate fundamental limits of sequence design. This project aligns with the BioPACIFIC MIP mission, serving as new in silico screening tools that guide the development of sequence-specific polymeric materials with tunable properties.
 

What excites you about NSF BioPACIFIC MIP?

Through the second half of 2022, I participated in bi-weekly SET2 meetings, where I discussed my research project with students and faculty from outside of my department and university. These discussions answered many inquiries and fostered collaborations that explored novel research directions, inspiring me to further seek cross-disciplinary and department research opportunities. Specifically, I aim to actively participate in the SET2 and All-SET meetings, and to contribute to other students' research projects. Moreover, as I advance to candidacy, I hope the Professional Development Meetings will expose me to professional tracks where I can align both my technical and soft skills and help in creating an individual development plan to start preparing for that career.

Beside engaging with the BioPACIFIC MIP Fellows' professional and research development opportunities, I am interested in actively participating in its outreach programs. During my time at UCSB, I have mentored undergraduate students from underrepresented backgrounds and provided multiple workshops for their professional and academic development. Now, I want to participate in outreach events at local middle and high schools in the Santa Barbara area, expanding my science communications skills and supporting and inspiring the next generation of researchers in our community.