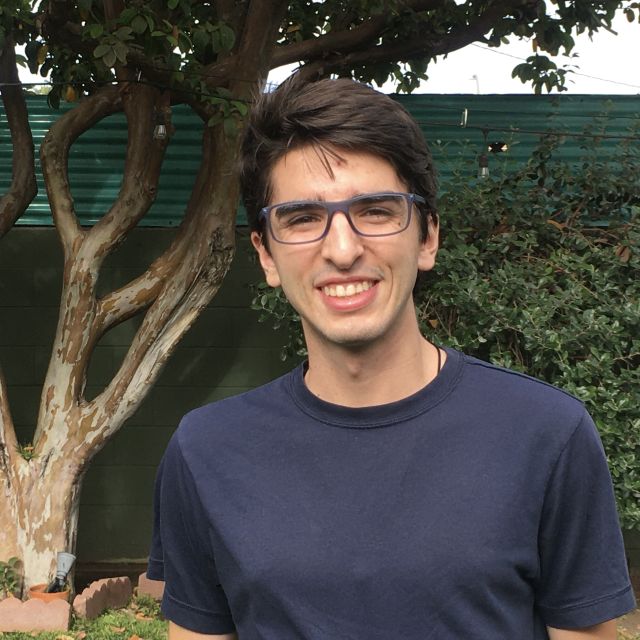 Niko Vlahakis
Graduate Student
BioPACIFIC MIP Fellow 2022
 

About Niko
Advisor: Jose Rodriguez
Department: Chemistry and Biochemistry
Campus: UCLA
BioPACIFIC MIP Research: SET 2 - Sequence-Defined Materials
 

What is your research focus?

My research until this point has focused on accurately extracting the greatest amount of information from electron diffraction. I focus on peptide and small molecule crystal substrates to better understand the scattering contributions imparted by individual atoms in a structure, and to observe any differences in scattering resulting from differences in chirality between substrates. As I am interested in exploring the extent to which fine structural differences between crystals can be resolved by electron diffraction, the SET 2 goals of interrogating atomic-level structures of sequence-defined materials and studying the relationship between sequence length and chirality in such systems are in good agreement with my own. During my Ph.D. training, I have mastered the fundamentals of electron diffraction and applied them to the determination of ab initio structures at 1.0 Angstrom resolution or greater from a collection of substrates including L- and D- peptides, organometallic polymers forming a layered crystal lattice, and organic small molecules. Likewise, I now have experience performing high-throughput crystal growth, data collection, and processing and structure determination. Recently, I've also taken an assignment as a teaching assistant responsible for training users and writing protocols and policies for a Talos F200C TEM, within the department of Chemistry and Biochemistry at UCLA. That role has enabled me to mentor students interested in learning to perform MicroED experiments while better familiarizing myself with the appropriate and respectful use of state-of-the-art electron microscopy equipment. This would directly translate to duties of training and collaboration associated with involvement in SET 2 projects.
 

What excites you about NSF BioPACIFIC MIP?

My interest in getting involved with SET 2 as a BioPACIFIC MIP Fellow comes from an interest in continuing my training in crystallography and molecular structure determination. As a Fellow, I would apply what I've learned thus far to screening, collection diffraction data, and resolving high-resolution of structures from variable-length polypeptoids where the relationship between fine alterations in sequence and the resulting supramolecular structure is not well understood. This might hold an elegant parallel to my own research in exploring the causal relationship between controlled differences in crystals and the information encoded in the diffraction patterns they produce. I am interested to see how changes in the architecture of the sequence-defined peptoids we will study here might affect the morphologies and diffraction quality of any crystals they form, for instance. Further, I am eager to gain experience using and eventually helping to train new users at the more advanced electron microscopes associated with BioPACIFIC MIP at UCLA; I've recently enjoyed the opportunity to take on a mentorship role at UCLA, which has challenged me to become more confident and meticulous in my own experiments, and I'm excited for the opportunities in training and mentorship that working with BioPACIFIC MIP will surely provide.